How exercise is beneficial for women during breast cancer treatment and recovery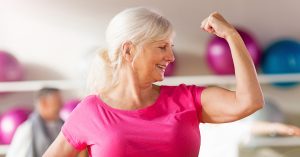 Posted on 15 October, 2020
Breast cancer is the most common cancer in women, affecting an estimated 19,807 Australian women in 2020. This fact illustrates the importance of breast cancer awareness month. Club Active's membership demographic is predominantly over 50, so we wanted to share some health insights from our allied health professionals this October. An accredited exercise physiologist can help anyone affected by breast cancer by assisting with treatment side-effects and muscle strengthening.
Breast cancer statistics
Approximately 79% of new cases occur in people aged over 50, with the average age of a first diagnosis being 61 years old.
5–10% of breast cancers are due to a family history of the disease or a specific genetic mutation.
Although the 5-year survival rate for breast cancer is 91%, the disease still kills approximately 3000 women and 35 men per year.
The benefits of exercise and breast cancer
Although exercise may not improve cancer-related quality of life, it can improve:
Self-esteem
Physical fitness
Body composition and
Chemotherapy completion rate without causing any additional adverse events.
Staying physically active during treatment can also lead to a decrease in symptom intensity, fatigue, anxiety and difficulty sleeping.
The type of exercise recommended when recovering from breast cancer
Some breast cancer treatments can lower your body's bone density, increasing the risk of fractures. There is strong evidence that resistance-based training at a moderate to high intensity can help slow this process down. It is essential that this type of training be under the supervision of an experienced exercise physiologist.
How can allied health professionals help with my breast cancer recovery?
Exercise will need to be specific to you and your health needs. A Club Active accredit exercise physiologist who is a university-trained professional, will help determine an appropriate starting point based on your previous training experience, current fitness level and what part of the breast cancer timeline you are at.
Club Active Exercise Physiologists can help anyone affected by breast cancer. An initial assessment will discuss your health and well-being. After completing an assessment, you will receive an individualised program specific designed to you and may include reducing the side effects of treatment.
To learn more about working with an Exercise Physiologist, please contact our friendly team today.
Club Active breast cancer exercise physiologist talk & Pilate class
 In line with Breast Cancer Awareness Month, Club Active would like to highlight the benefits of Pilates for those affected by breast cancer.  
Pilates is a safe and effective way to strengthen the upper body, especially shoulder, chest, back and abdominal muscles. This allows women to regain range of motion and mobility to the areas affected by breast cancer.
In general, there are many benefits to Pilates
 Improve overall physical strength and flexibility
 Increase range of motion and endurance
 Reduce pain and fatigue
 Increase in daily functional and physical activities
Join Accredited Exercise Physiologist, Sarah for a FREE 10min talk followed by a group fitness Pilates session. The talk will discuss the inclusion of exercise alongside treatment.
This free talk is being held at Club Active Tweed from 3pm on Tuesday 20 October 2020. RSVP as numbers are limited.
Open to members and non-members. This is a fantastic opportunity to raise awareness around an important health issue for women and how exercise can help. To book your spot please contact Club Active Tweed.
Source: Breast Cancer Network Australia, Breast Cancer Foundation.