Body composition scan – why it's important and key benefits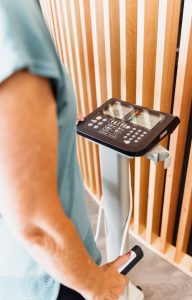 Posted on 25 April, 2021
What is a Body composition scan?
Body weight fluctuates constantly; the major reasons for these fluctuations are shifts in body water. Inevitably, weighing yourself on the daily can be an extreme motivation killer, as often, these natural fluctuations can easily trick you into feeling as if your weight shift is minimal.
A body composition scan is a quick and simple test completed every few months with your Exercise Physiologist. The scan offers an in-depth analysis of your body compared to traditional at-home scales. It's not meant to be an intimidating process; the scan is designed to help you understand your body better and identify any areas your Exercise Physiologist can work with you on; to help you reach your goals!
Benefits of a Body Composition scan
Body composition scans are the simplest way to measure the amount of bone, fat, and muscle you hold. It takes less than 2 minutes! All you have to do is stand on the scales and let technology do its thing. Key benefits include:
Quick, simple – takes less than 2 minutes!
More accurate than other body mass tests such as Body Mass Index (BMI) and using at-home weight scales
Allows the Exercise Physiologist to regularly monitor your level of body fat, lean muscle mass, and muscular development and make appropriate program changes if required
Helps to understand how your lifestyle, dietary habits, and exercise regime are influencing your overall body composition.
What a consultation session with an exercise physiologist involves.
The first session will be an opportunity for you and the exercise physiologist to get to know each other and build a trusting relationship. During the initial introductory consultation, your Exercise Physiologist will take a body composition scan of you to assist with developing a customised program to suit your needs.
An initial introductory consultation will consist of taking a medical history, body scan physical assessment (to address any movement deficits), and developing an exercise plan for the individual. 
The follow-up consultation session will be a program run through, where the exercise physiologist guides you through a personalised exercise program specific to your needs and goals.
To learn more about working with an Exercise Physiologist, please contact our friendly team today.