Fall Prevention – Reduce Your Risk With These Evidence-based Exercise Tips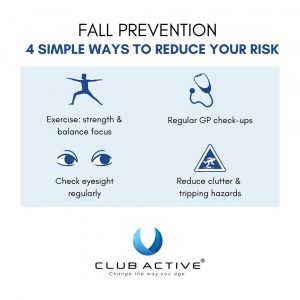 Posted on 29 March, 2021
What is a 'fall'?

A fall is defined as an event that results in a person coming to rest inadvertently (aka. "falling over") on the ground or floor. According to the World Health Organisation, Falls are the second leading cause of accidental or unintentional injury deaths worldwide!

Falls are a major health issue within the Australian community; around 30% of adults over the age of 65 experience at least one fall per year. This number is set to increase as the Australian population ages, with the proportion of people aged over 65 predicted to increase from 3 million in 2010 to a staggering 8.1 million in 2050.

The Statistics
Nearly 1 in 3 older Australians have experienced a fall in the past 12 months.
Falls account for 40% of injury-related deaths in persons aged 65 years and over.
The cost of falls is expected to rise to approximately $1.4 billion by 2051 due to the increase in the population ages.



Understanding your risk

Age is one of the key risk factors for falls, adults older than 65 years of age suffer the greatest number of fatal falls.
The main risk associated with suffering a fall is a fracture, which can be very serious. Hip fractures are the most dangerous, with 25% of cases resulting in death. Of those who survive, one-third will never regain complete mobility.

Falls can also result in a loss of independence and confidence. The fear of a subsequent fall can lead to a loss of strength and mobility and creates a dependency on others, increasing the probability of being admitted to an institution.


Why might people aged 65+ be more at risk?
Changes to the body! Our bodies change gradually and over many years as part of the normal ageing process. As you get older, you may notice:
balance problems
weaker muscles
decreased eyesight
slower reaction times
The above factors are all natural bodily changes that transpire as we age. All factors can affect the way we get from point A, to point B – and they can cause a person to fall.
How can a Club Active Accredited Exercise Physiologist help?
Multi-component exercise programs appear to be the most effective intervention for improving the health status of older adults. Our Club Active university-qualified exercise physiologists can help develop a program for you incorporating:
Resistance training to improve neuromuscular function
Endurance exercise to enhance cardiovascular fitness
Balance training to improve proprioception (special awareness).
We also have a range of great classes at Club Active tailored to improve strength, coordination, and balance.




Looking for some exercises to get you started?
Watch as Shaun, our Accredited Exercise Physiologist demonstrates 2 exercises that can help to improve your lower body strength. Both aiding in fall prevention by strengthening your hip and legs.

Watch the full exercise demonstration video HERE.


To learn more about working with an Exercise Physiologist, please contact our friendly team today.