Diabetes is a modern epidemic health system challenge and how exercise can help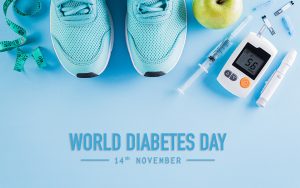 Posted on 13 November, 2020
It has been said by Diabetes Australia that with 280 Australians develop diabetes every day, or one person every five minutes, we have a 21st-century epidemic to address. It has become one of the biggest challenge confronting Australia's health system, however, simple lifestyle modifications have been shown to reduce the incidence of diabetes by 58%
What is diabetes mellitus?
Diabetes mellitus is when a person's body cannot maintain healthy levels of glucose in the blood. Glucose is a form of sugar which is the main source of energy for our bodies. There are three main types of diabetes: type 1, type 2 and gestational diabetes.
Type 2 diabetes affects 85-90% of people with diabetes and although there is a strong genetic predisposition, the risk is greatly increased with poor lifestyle factors such as insufficient exercise, poor diet and increased body weight.
Diabetes Statistics
An estimated 1.2 million Australians (4.9% of the population) had diabetes in 2018.
Diabetes contributed to 11% of deaths in Australian in 2018.
Modest changes in exercise can reduce the risk of developing type 2 diabetes by 46%.
The benefits of exercise and diabetes
Regular physical activity can help your body to use insulin more efficiently.
Without sustained lifestyle change, 1 in 3 pre-diabetics will go on to develop type 2 diabetes.
People with type 2 diabetes who complete a minimum of 150 minutes a week of moderate exercise (including walking) or vigorous exercise have a 40% lower risk of developing heart disease than those who don't exercise.
People at risk of type 2 diabetes can delay and even prevent the condition by; maintaining a healthy weight, regular physical activity and making healthy food choices.
What type of exercise is good for diabetes
Modest changes in exercise such as 20 minutes of mild or moderate, 10 min of strenuous, or 5 min of very strenuous exercise one to two times a day will make a difference.
How can Club Active allied health professionals help with my diabetes?
It is important to exercise correctly for diabetes, as those with this condition may have an increased risk of complications. Our allied health professionals can help design a tailored program suitable to your needs. An exercise physiologist can provide education about the right types of exercise and the ideal time to train. We also have dietitians to assist you in making healthy food choices and managing food intake and diabetes.
If you would like to learn more, please contact our friendly team today.
Sources: Australian Institute of Health and Welfare, Australian Bureau of Statistics, Diabetes Australia.